Meet the Vendors, Volume III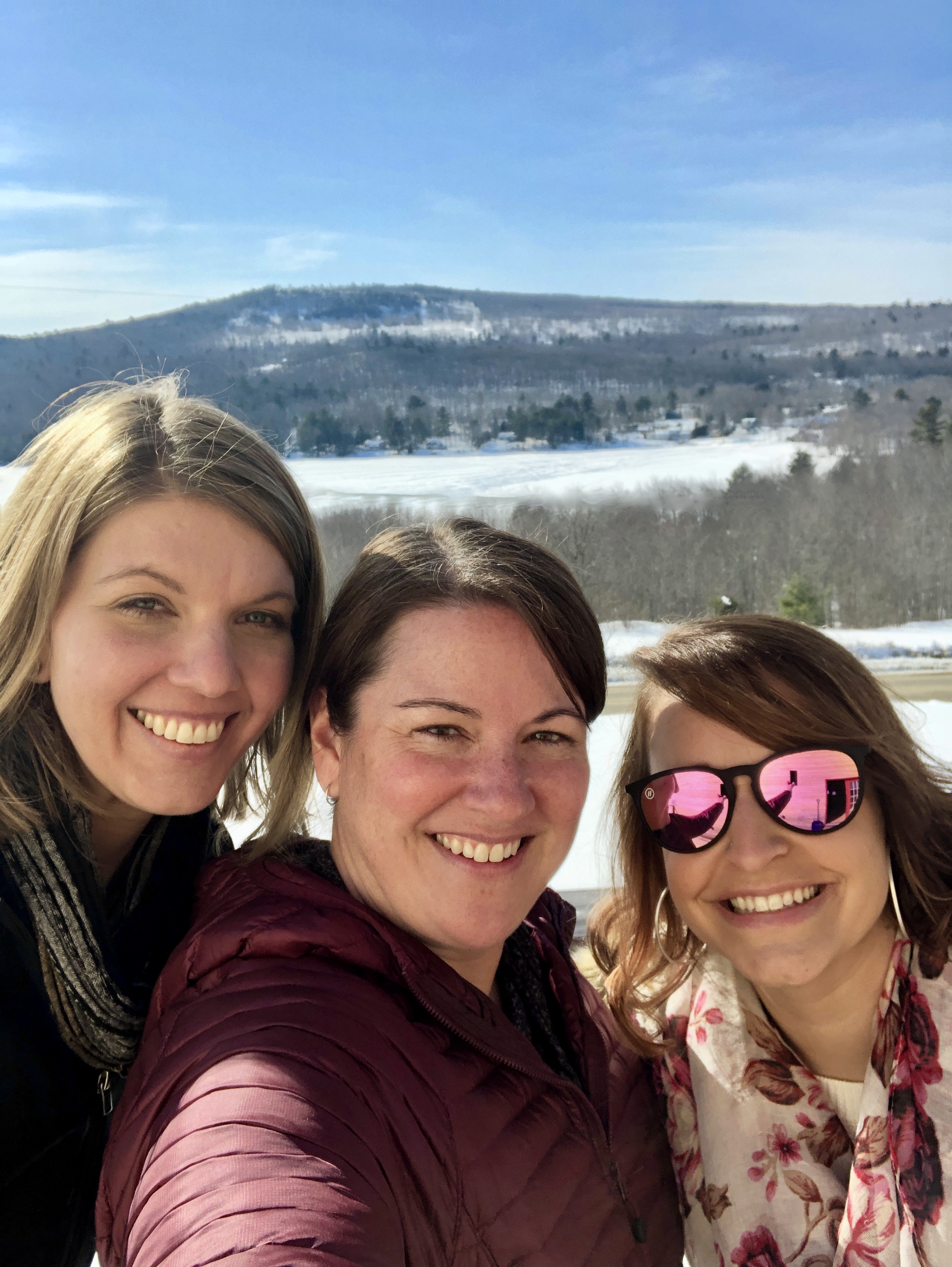 Strange Events
Chad and I welcomed, Renee Strange-Farnham and Carrie Erickson of Strange Events to Bonaventura Vineyards this past Saturday. It was a little chilly and the heaps of snow we just received prevent us from touring the whole property (without snow shoes anyway), but the sun was shining so we threw open one of the big barn doors to show Renee and Carrie our barn venue space including the view from the deck, which made for the perfect backdrop to our vendor selfie! It was great to to talk business, share ideas and learn what we all have to offer.
We met Renee at a Maine Wedding Network, Wedding Drinks event http://maineweddingnetwork.com in our area in January and we connected after the meeting to set up a visit. Renee has many years of experience in all aspects of the service and planning side of the wedding business starting as a server and catering assistant many years ago. Since that time, she has helped numerous couples create the wedding vision of their dreams! Renee's company offers three main services:
#1-Day of Wedding Coordinator

Strange Events day of coordinator service will ensure your wedding day runs as smoothly as possible, solving any last minute issues that arise so you can remain relaxed and in the moment on your big day! This service includes a visit to both ceremony and reception sites prior to the wedding (when possible), assistance in development of a detailed wedding timeline and floor plan (if needed), correspondence with all contracted vendors before the wedding day to confirm arrival times, items/services being supplied and to provide Strange Event's contact information for the day of the event. Also included is Wedding Rehearsal Supervision and Coordination and on-site coordination and supervision at the ceremony site and during the reception on the day of the wedding.
#2-Bartending Services
With Strange Events bartenders you the client provide the alcohol, giving you the flexibility to determine what you would like to include from signature cocktails to beer, wine and/or mixed drinks. The bartenders can also assist your catering company with any champagne toast needs. Additionally, this service includes the set-up of the bar area with the supplies you or your vendors provide, along with tear-down and clean-up of the bar area. Strange Events bartenders have at least one-year experience (many with more) working weddings and events providing a highly professional, friendly and fun addition to your team. All Strange Events bartenders have a State of Maine Bartending License. This means each bartender has taken and passed an online test regarding Maine State laws and responsible serving, providing you with peace of mind while your guests enjoy themselves. The bartenders will monitor alcohol consumption in accordance with State laws.
#3-Event Staff
Let your family and friends enjoy the day with you as well, Strange Events Staff can do it all! Setup, decorating, serving cocktail hour or dinner, clearing plates or cleaning up after the party. The Event Staff is available to help make your day smoother and allow you to relax, while the staff take care of the rest. Event Staff can be scheduled the day before to be extra hands for setup, or your Rehearsal dinner, along with the day after your event for cleanup assistance before you leave your venue. Strange Events Event Staff have at least one-year experience (many with more) working weddings and events and as with the bartenders they are highly professional, friendly and fun.
If you are still searching for your 2019 Day of Wedding Coordinator or are in need of bar tending services or event staff to keep your day running smoothly, Strange Events still has some openings and is currently actively booking for 2020, so check out the website and contact Renee today! https://www.strangeevents.org You can also get to know Renee and her company on Facebook and Instagram @strangeevents207.
Additionally, if you are still searching for your venue for 2019 or 2020, we also still have availability, contact us today for a tour http://bonaventuravineyards.com/?page_id=128. You can also follow Bonaventura Vineyards on Facebook, Instagram and Pinterest @bonaventuravineyards and Twitter @bonavineyards.
Thank you for your interest in Bonaventura Vineyards!
Jen Bonaventura